When I was first approached about playing a lead role in organizing Pitch Ethiopia 2019 I was still adjusting to my intense MBA program, and learning to balance school and family. Despite my reservations about the timing, I accepted the role because I knew it would be a good way to stay plugged into the startup ecosystem in Africa, and to start applying some of what I had learned in my MBA already. Now that the week of Pitch Ethiopia events in Addis Ababa is over, and I'm back in Chicago, I can clearly see that saying 'yes' to this opportunity was a fantastic decision that I will cherish for a long time.
What is Pitch Ethiopia?
Pitch Ethiopia is a smaller, country-specific version of the continent-wide Demo Africa pitch competition. Like Demo, it starts with a virtual bootcamp, followed by an in-person bootcamp and finally the main pitch event. Pitch Ethiopia is not only the first country-focused pitch competition we have organized but it's also the first time we've done so in Ethiopia. To accomplish this we had some amazing partners, including Africa Fintech Summit, Microsoft 4Afrika, Google, Pegasus Ventures, and the U.S. Department of State – Office of Global Partnerships.
Why Ethiopia? Why now?
There are many reasons why the world should pay attention to Ethiopia's economy and investment opportunities in Ethiopian technology startups:
Ethiopia is one of the fastest growing economies in the world in recent years.
Ethiopia is Africa's second most populous country, with a young population like most of the continent.
Ethiopia recently began the partial privatization of the national airline Ethiopia Airlines and national telecom company Ethio-Telecom.
Ethiopian Prime Minister Abiy Ahmed successfully made peace with their neighbor Eritrea to end a 20-year conflict. He won the Nobel Peace Prize in 2019 as a result of these efforts.
Ethiopia's capital Addis Ababa is a regional hub that is home to the African Union (AU), the United Nations Economic Commission for Africa (UNECA) and Ethiopian Airlines, which connects the city to much of Africa, the Middle East and the rest of the world.
The Finalists
The seven finalists at Pitch Ethiopia 2019 were:
Ahun – app for discovering places and events through your friends' experiences
Axiom – credit scoring for businesses in Ethiopia
BeBlocky – interactive and fun way for kids to learn coding
Meda – localized messaging and mobile payment platform
OrbitHealth – digital transformation for healthcare
Sumuni – bridging the gap between businesses, investors, and service providers
Telliscope – empowers business growth in emerging cities with actionable data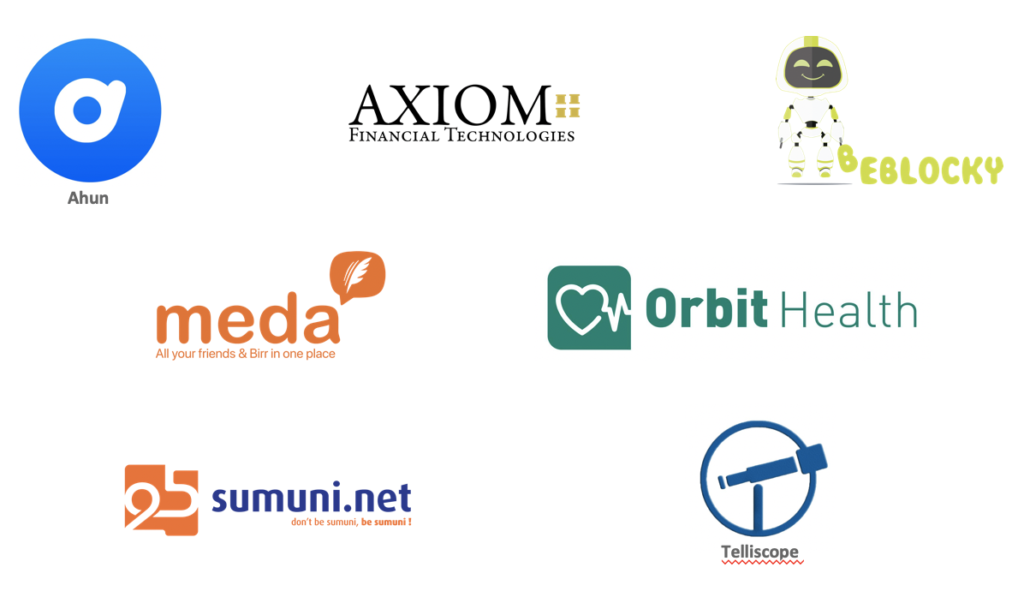 The Bootcamp – Days 1 & 2
Most of my involvement with Pitch Ethiopia was in organizing and running both the virtual and in-person bootcamps. The virtual bootcamp covered about 6 weeks and consisted of assignments and review sessions to drill down on each startup's business model, product-market fit, go-to-market strategy, financials and unit economics. The goal of the virtual bootcamp was for us to understand each individual business and the team behind it better so we could prepare them to pitch, network with investors and continue building their startup successfully. This phase also helps the entrepreneurs gain practice in explaining their business and responding to questions. It also gives them a head start in gathering the data and metrics that will be critical to pitching and discussing potential investment with venture capitalists in the near future.
The online bootcamp was followed by a two-day intensive in-person bootcamp which was hosted in our partner Kudu Ventures' office with assistance from iCog Labs, a local AI research and development company. Based on my analysis of the startups during our previous interactions, I designed an agenda of relevant sessions covering the art of pitching, intellectual property, regulatory environments, valuations, cap tables, term sheets and product commercialization. I also led a session on the Power of Data and Storytelling, and Jeri Jensen from Santa Clara University did a session on Marketing Fundamentals. At the end of the bootcamp we were visited by the U.S. State Department Office of Global Partnerships and Thomas Debass explained the importance of global partnerships in entrepreneurship ecosystems.
The bootcamp was my favorite part of the experience. I always find the stories behind companies and founders fascinating. These 7 Ethiopian startups were no exception to that and I truly appreciate the open and collaborative process we went through with them. Sharing my experience at various technology companies in Silicon Valley, and using it to help these founders think through their own business models, product-market fit and marketing strategies, was personally rewarding.
The Summit – Day 3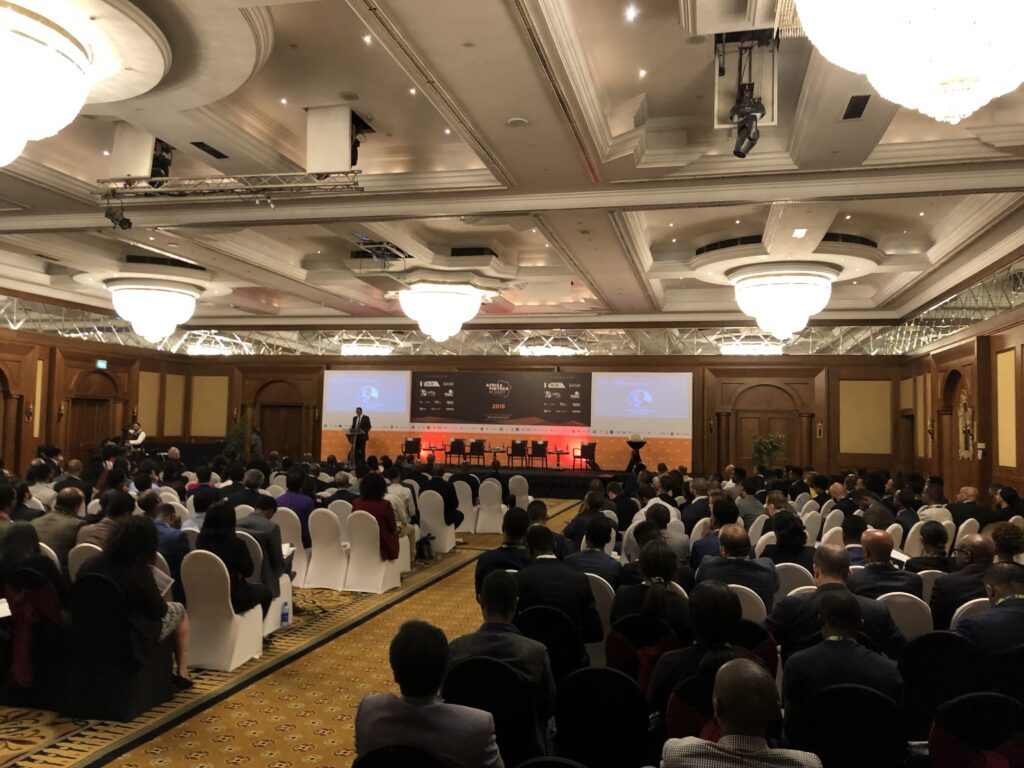 As part of our partnership with the Africa Fintech Summit (AFTS), the Pitch Ethiopia team and seven startups were able to attend their conference. The summit brought together fintech leaders from startups, corporates, governments and investment funds, all in one place. AFTS had its own set of startups with booths at the conference and a smaller pitch competition (Pitch Ethiopia finalist Axiom competed in and won the AFTS competition). I talked to a lot of impressive fintech entrepreneurs at the summit, including Kaivan Sattar, the CEO and Founder of Asaak, a Kampala-based startup improving access to credit. Kaivan and I had a lot of random things in common (data analytics, Accra, Kampala, New York, San Francisco) which led to a fun conversation.
It was great to be a part of the first edition of this conference in Africa. Fintech in Africa is growing and this could become the must-attend event for the industry.
The Main Event – Day 4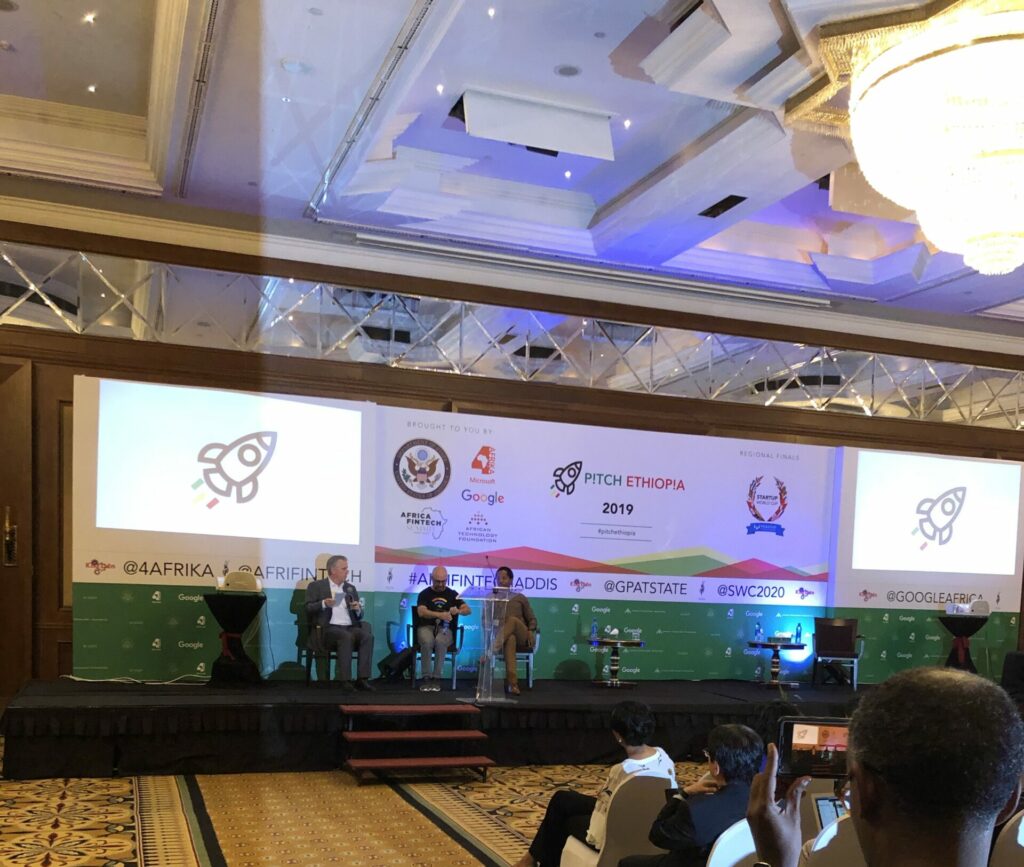 The day of the big event finally arrived. Luckily everything went off without a hitch. The only issue we had to deal with was a good one – more people showed up than expected and so we had to figure out our capacity and keep track of how many people were inside. We didn't anticipate this problem but it was a good one to have for the first edition of Pitch Ethiopia.
The morning started off with brief speeches by Thomas Debass from the U.S. Department of State – Office of Global Partnerships, Amrote Abdella, the regional director of Microsoft 4Afrika and Eugene Barysau from Pegasus Ventures Startup World Cup. We also had a Global Ecosystem panel with Marc Carlson from the U.S. Department of State, Thuso Segopulo from Amazon Web Services and Walid Mathlouthi from Google.
The moment we had all been anxiously waiting for finally arrived before lunch. The first batch of startups did their 5- minute pitches followed by questions and feedback from on stage panelists. Meda was the first on stage and co-founder Biruk Hailu did a magnificent job wowing the audience with his story and setting a high bar for the rest of the day. He was followed by BeBlocky, Sumuni and Telliscope. At the end of the pitches, it was clear that the judges were going to have a tough decision picking a winner. More importantly though, the room was buzzing as the investors and techies from all over the world were massively impressed by the first 4 Ethiopian startups and couldn't wait for the next batch.
After lunch our keynote speaker Jeff Hoffman, co-founder of Priceline.com, gave an impassioned speech about the need for entrepreneurs to solve the biggest social problems in Ethiopia and the rest of the world. He used his platform to highlight local Ethiopian social entrepreneurs in health and education and moved the crowd to remember the greater purpose for entrepreneurship in the world. The second batch of startups pitched after lunch. The first to hit the stage was Axiom, followed by Ahun and Orbit Health.
Reflections
I finally breathed a sigh of relief when the last pitch was over. All 7 startups had amazing pitches. I was surprised how much they each improved since the beginning of the bootcamp six weeks earlier. While most people in attendance only got to see the final product, I was lucky to work with them over an extended period and be a part of a journey that culminated in their pitch on stage. Axiom were announced as the winners, claiming their second win of the week after their victory at AFTS the previous day. Telliscope finished second and BeBlocky came in third.
The Pitch Ethiopia audience from all over Africa and the world were given a brief look at the outstanding potential of Ethiopia's technology ecosystem and left buzzing about the future of Africa's second largest market. They were introduced to startups across industries, such as education, financial services, social networks, data analytics, communication and healthcare, highlighting the diverse opportunities in the country. The founders included college students, recent graduates and experienced professionals, with very different stories but equal ambition to create solutions with potential to scale beyond Ethiopia's borders. As Ethiopia aims to create 2 million new jobs per year for its young citizens, local entrepreneurs, such as the Pitch Ethiopia finalists, are stepping up to the plate and proving that there is no shortage of investable companies and talent. The time to invest in Ethiopia is now.
After a whirlwind week (or six weeks) of planning and running the bootcamp and pitch competition, I used my last day in Addis Ababa to relax and check out Unity Park. Unity Park is a must-see for anyone visiting Ethiopia. It is rich in culture and history, and a beautiful testament to Ethiopia's unique place in world history. After learning more about Ethiopia's historical role in religion, trade and culture over many centuries, I am even more excited to see where its future lies and how entrepreneurs will shape it.